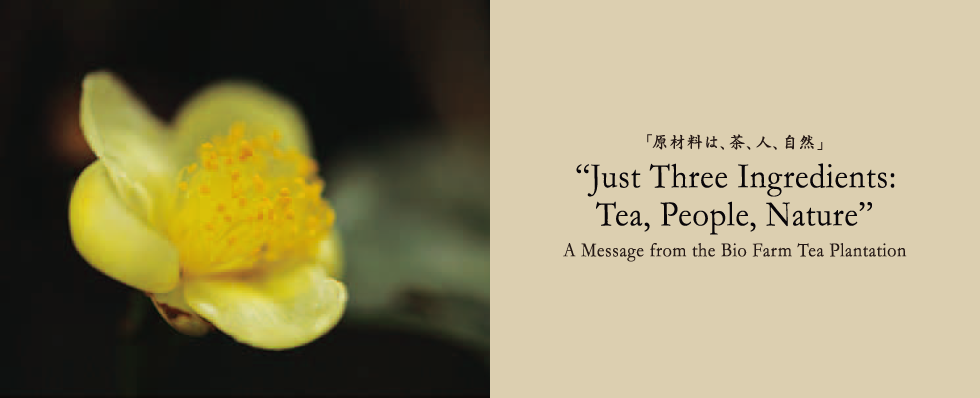 What is our role? Look to nature and the tea plants for the answers.
Kodono, Kawanabe Town, Minamikyushu City – During the Heian Period, a man named Mr. Kawanabe lived on and tended to the mountain-encircled tableland in this vast land rich in natural beauty and abundant in ancient spring water. It is here that you will find our Bio Farm – a tea plantation spanning seven hectares, dedicated to the cultivation of organically farmed and fertilizer-free naturally farmed tea.
It is the end of March and we remove the covers from the new shoots, allowing the lush tea leaves to peek out. If you look below, you see the plants vying with each other to reach out and soak up the spring sunshine, and insects flit about busily. In addition to our signature Yutakamidori tea plants, we grow a total of twelve varieties, such as Yumekaori, Yabukita, Surugawase, Hatsumomiji, Benifuki and several species native to the region. By growing different varieties together in one field, we can make truly unique tea, whilst also preventing damage from disease and harmful insects. With our tea fields tucked in amongst the mountains, daylight hours are shorter, limiting the amount of photosynthesis taking place, resulting in thin but broad, high-quality tea leaves.
Our wish is that a cup of tea may be the bond between the rich bounties that breathe life in to this great land. At Bio Farm, we are devoted to creating world-class Kagoshima teas through the interaction of three key elements – tea, people and nature.