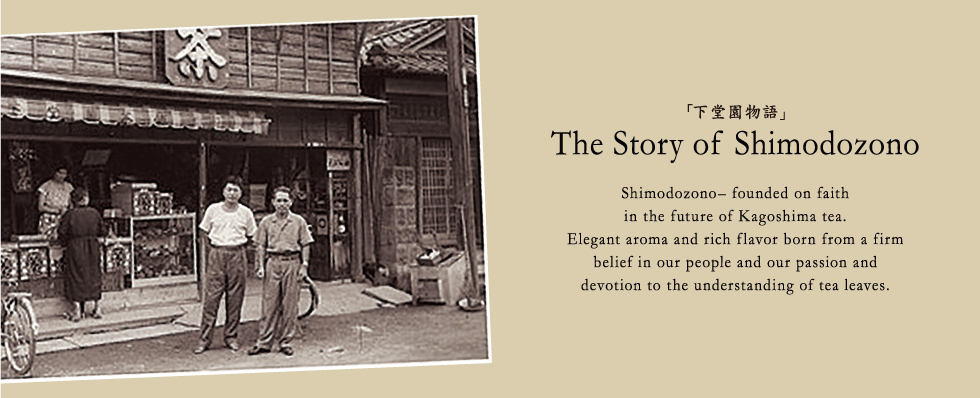 Shimodozono's founder, Minoru Shimodozono, was born in 1920, in a town flourishing with tea production called Shirakawa, Kinpo Town (present-day Minamisatsuma City). He started his career at the local agricultural cooperative as a tea cultivation and processing specialist. In March 1954, Minoru established his own tea shop, Shimodozono Chaho, in the shopping street of Korai Town in Kagoshima City, fueled by the determination to make Kagoshima-grown tea the most delicious in all of Japan.
At this time, Minoru met a specialist from a tea research facility named Katsuro Okamura. Because of its high reproductive power and yield, Okamura recommended what has become the leading tea variety in Kagoshima today–Yutakamidori (Y-2). Minoru worked day and night to improve his tea; applying his skills that were honed over many years and his understanding of the tea market; making slight adjustments to heating temperatures and the amount of tea leaves used. By using higher than normal temperatures in the heating process, he succeeded in making delicious, aromatic tea without astringency. The fruit of his labor came seven years after the first harvest, with the creation of the "Senryo" brand, which went on to become the cornerstone of Shimodozono.
Yutaka, Minoru's son and the current president of Shimodozono, talks about the tea his father made: "I will never forget the taste of that tea when he finally succeeded – the really fragrant and full-bodied Yutakamidori."
Since then, Shimodozono has released many tea brands using the Yutakamidori variety and has contributed greatly to its expanded cultivation and promotion, gaining recognition for the Yutakamidori variety as Kagoshima tea, both in Japan and around the world. Today, at Shimodozono, we carry on the passion of our founder and those who worked with him. We are proud in the knowledge that we have made Kagoshima Japan's second largest tea-producing region and we aim to keep walking the path to even greater heights in the world of tea.